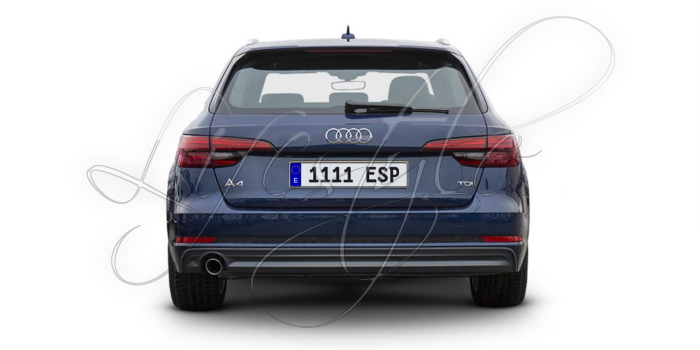 Spanish number plates Service for EU and EEA Cars
Austria, Belgium, Bulgaria, Croatia, Republic of Cyprus, Czech Republic, Denmark, Estonia, Finland, France, Germany, Greece, Hungary, Iceland Ireland, Italy, Latvia, Liechtenstein Lithuania, Luxembourg, Malta, Netherlands, Norway Poland, Portugal, Romania, Slovakia, Slovenia, Sweden
If you've brought a car from one of these countries and want to get it registered in Spain with minimum hassle, our Spanish Number Plates service is just for you.  There's a lot involved in the process so if you value your time, just let us do it for you.
Our Spanish Number Plates Service is friendly, efficient and professional.   We organise the various steps for you and handle all the paperwork and payments on your behalf, so you get your car registered with minimum effort on your part.
Our Spanish Number Plates service breaks down into three main stages.
There are fixed costs which will generally apply and be similar in most cases.  This is a typical example for a low emission car excluding any fee for our services:
Vehicle report (ficha tecnica) €150
ITV  €148
Local (road) tax €120
DGT + presentation fees €246
Number plates €36
Total €700
Then there are the variable costs which depend on your car and situation.  For example registration tax, temporary plates.
If you're paying us to help you, we'll of course check the tax and let you know the other likely costs at the start, so you know how much to budget for.  We'll also arrange insurance quotations.
If you're not sure whether to register your UK / EU car onto Spanish plates and need to find out more about the likely costs, click here to read our article which provides more information about the process and examples of registration tax calculations.
Ready to get Spanish Number Plates?
Let us save you time and money and help you get your car registered.  Our excellent value professional service, makes getting Spanish number plates straight forward and easy.
What's included?
○ ● Guidance through every step
○ ● Arranging vehicle certification and ITV
○ ● Support through the process
○ ● Confirmation of tax & handling the payment
○ ● Handling all the paperwork
Tailored to you
Your service package will include whatever is needed to get your car on to Spanish plates with the least impact on you and your time.  We'll create the service around you.
Extras to Save You Time & Money & make it even easier
Change of residence tax exemption
Registration tax applies to cars with CO2 emissions above 120g/km.  If you're bringing your car because you're moving to Spain, we can make an application for you to get an exemption from this tax.
Pick up and return ITV 
If you don't want to take your car to the inspection yourself, we'll collect it, take it through and return it to you.
Provisional (green) plates 
If you need your car to be registered straight away, these allow you to drive your car whilst the rest of the process is completed.
Why use our Spanish number plates service?
Whilst the process is not difficult to follow, to avoid mistakes it's good to have someone with lot's of knowledge and experience guiding you.  As we've done this many many times, it's easy for us to make sure each step is followed correctly and in the right order.  This will save you time and money.  You'll not need to worry that you don't speak Spanish, or about getting stuck in the process.  We'll be there for you.  We handle the registration of your vehicle efficiently, professionally and provide exceptional customer service.  You also have the added comfort that you're dealing with a long established business, and registered company with offices in Spain.
Here's what our clients who have to say:
LifeStyle Group have transferred many vehicles for our business, and we have found the service and professionalism is far superior than many Gestors we have used before finding them. Nothing is too much trouble for these guys and everything is done correctly and very quickly. SS
LifeStyle Group helped me register my German car in Spain. They were efficient, friendly, answered emails and messages without delay. I would have no hesitation in recommending this service. SH
Let Us Help You Get your Spanish number plates
(+34) 951 255 877 / (+44) 033 0001 0777