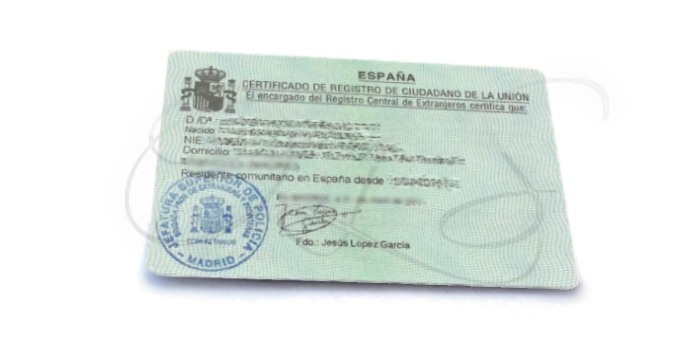 EU Citizen Spanish residency Certificate
The application to get  a Spanish residency certificate is in most cases pretty straight forward.  If you follow the process and have the correct documents you can get your residency quickly and easily first time.
We've prepared and presented hundreds of applications at many different immigration offices (Oficinas de Extranjería), and police stations, (Comisarías de Policía) throughout the Costa del Sol and all over Spain, so can tell you from first hand experience exactly what supporting documents you need, to get your application right and accepted with no fuss.
What Do I Need To Get a Spanish Residency Certificate?
First of all you need to meet the eligibility criteria.  This is currently not very stringent so most do not have a problem here.  Where many trip up is understanding the requirements and preparing their application correctly with all the necessary supporting documents.  
EU Citizen Spanish residency Certificate requirements
The minimum money that a single person needs to have is just under €7,000 per year, or a monthly income of €580.
Access to healthcare can be through the state system or private medical insurance. 
Preparing for your Spanish residency Certificate Application
If you meet the eligibility criteria, then you'll need to get everything ready so you can present your residency application.
General Guide To Supporting documents
If  You Are Working 
Employed in Spain –  work contract stamped and signed by the company, your most recent payslips /  bank statements showing your pay
Self employed in Spain – autonomo registration document, most recent return and proof of social security payment.
Employed elsewhere – work contract, payslips and bank statements showing income and private medical insurance certificate.
If You Are Retired
Private pensions – letter or statement to show the source of income, bank statements showing income and private medical insurance certificate.
State pensioner – letter showing that you receive state pension, and S1 form confirming your entitlement to state healthcare.
Some places will just accept the S1 on it's own, others require bank statements as well as the pension letter.
Other Income or Means
Own property in Spain – deeds or 'nota simple'
Rental income – contract plus bank statements showing the income going into your account
Savings in Spain – an average balance certificate from your bank (Certificado de Saldo Medio)
Savings elsewhere – statement showing the current balance meets the amount required and has done so for the last 6 months.
Need Some Help Getting Your Spanish Residency Certificate?
We can help you with any part of your residency application or take you through the process from start to finish.
We'll first access your situation so we can advise you on your application and supporting documents. If you need private medical insurance, we'll help you arrange it.
This initial assessment makes sure you get your residency off to the right start and if you use us to help with the rest, your residency application will be an effortless and easy process.
If you need more help applying for your residency certificate, our services start at €195 (+IVA).
When you use our residency services, we also provide you with information about the things you'll need to do and consider when taking up Spanish residency, this includes information about Spanish tax.
Planning and understanding tax in Spain is an essential part of Spanish residency.  In all cases we'll cover off the basics, however if you're not sure about your tax position once as a resident in Spain, you can speak to our Spanish tax adviser, or if your situation is more complicated consult one of our Spanish lawyers.
Your questions about Spanish taxation will be answered and you'll get a clear understanding allowing you to confidently proceed with this your transition to Spain.
Here's what our customers who have to say:
'I totally recommend Lifestyle team, they helped me and my girlfriend to get our residency and also changing our plate number to a spanish one. They do almost everything on your behalf so you don't need to stress over anything, the staff are really friendly too.' NM
'Fantastic service Lifestyle helped me and my family with our residencies, schooling and many many more. I have not had any issues with the service and I would not hesitate to contact them again. Ana was fantastic helping with schooling and registering my social security for healthcare coverage. Very friendly and professional service throughout.' SK
Lifestyle Spanish Residency Services
Phone / WhatsApp
(+34) 951 77 55 44 / (+44) 033 0001 0777