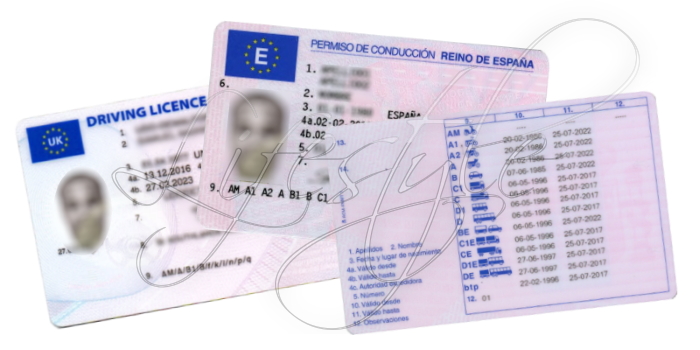 Driving licence exchange
NOTE: At the moment UK driving licences cannot be exchanged for Spanish, unless the intent to exchange was registered at the DGT before 31st December 2020.  The Brexit Agreement recognises UK licences as equivalent, however each member state has to put in place their own arrangement with UK for licence exchange.

Negotiations are currently underway on an agreement between Spain and the UK.  In the meantime licences remain valid until 31st October 2021.  This is an extension on the previous deadline of 30th June 2021.

If you are waiting to exchange a UK licence, complete step one below (without uploading documents), to be notified as and when we have further updates.
EU driving licence exchange service handles the application to exchange your EU driving licence for a Spanish one.  Our aim is to make the process as effortless and easy as possible for you.
We offer you two options.  If you don't mind making a trip to trafico, choose our Prepare & Go service.  We'll book your appointment, prepare your paperwork and make sure you have everything ready to go to trafico and hand in.  If you don't fancy a trip to trafico and prefer we do everything for you, use our Complete service, and we'll take care of the entire process.  All you have to do is call into our office to sign the paperwork, hand in your licence and photos and make the payment.
In either case we'll guide you through the process in 3 easy steps.
1. Request Service
Fill in the form to choose your service and confirm that you have all the listed documents.
2. Paperwork
Get your photos, documents, copies and application forms ready
3. Submit
Your appointment is booked, and you go along and hand in your application, or we do it for you.  You get a temporary licence, and wait for your new Spanish one to arrive.
What's included in our driving licence exchange service?
Explanation of the process and requirements
Initial review of documents guidance and advice
Preparation and submission of your application
Handling of communication and documents
Straight forward clear fixed pricing
Why Use Our UK EU Driving Licence Exchange Service?
It's simple and easy and saves you lots of time.  We check and prepare your application so it's completed correctly avoiding hold ups due to mistakes.
Aside from this, if you're going to do the exchange yourself, you'll need to pre-book an appointment at the DGT to submit your application.  It is not easy to get appointments due to high demand.
FAQ's
How much does it cost?
Complete service 145€ incl IVA and trafico fee
Prepare and Go 50€+IVA + 28€ trafico fee
photos approx €5 and medical test 30€ to 50€
Why do I need to take a medical?
This is a basic test to check your coordination eyesight etc to make sure you are physically and medically fit and able to drive.
How long does it take?
Appointments at the DGT normally come up two to three weeks ahead.  We process and submit applications on a two weekly basis.  The DGT typically take anything from 2 – 6 months to process applications and issue your licence.
Can I exchange an expired licence?
Yes you can.  Your application is handled as a renewal rather than an exchange, but the process and documents required are virtually the same.
Can I keep my licence?
Your licence has to be sent in with your application.  We provide you with confirmation that your application has been submitted, and the DGT issue a temporary licence, once they've verified and accepted your application.
Where is the service available?
We are currently providing this service in Malaga, (Costa del Sol and surrounding areas), Granada, Alicante and Mallorca.  We can also assist in other areas.
What documents / info do I need?
Your driving licence
Valid passport
Residencia
Address (in Spain)
Padron certificate
Here's what our clients who have to say:
. . . just excellent so quick and stress free thank you a million yet again. LB

Professional, friendly and really go the extra mile to make sure customers are looked after. Fab service, highly recommended.  JW

Very professional, very organised, great communication and fast. Made the whole process so easy.  BL
Get your licence exchange application done the easy way
(+34) 951 77 55 44 / (+44) 033 0001 0777