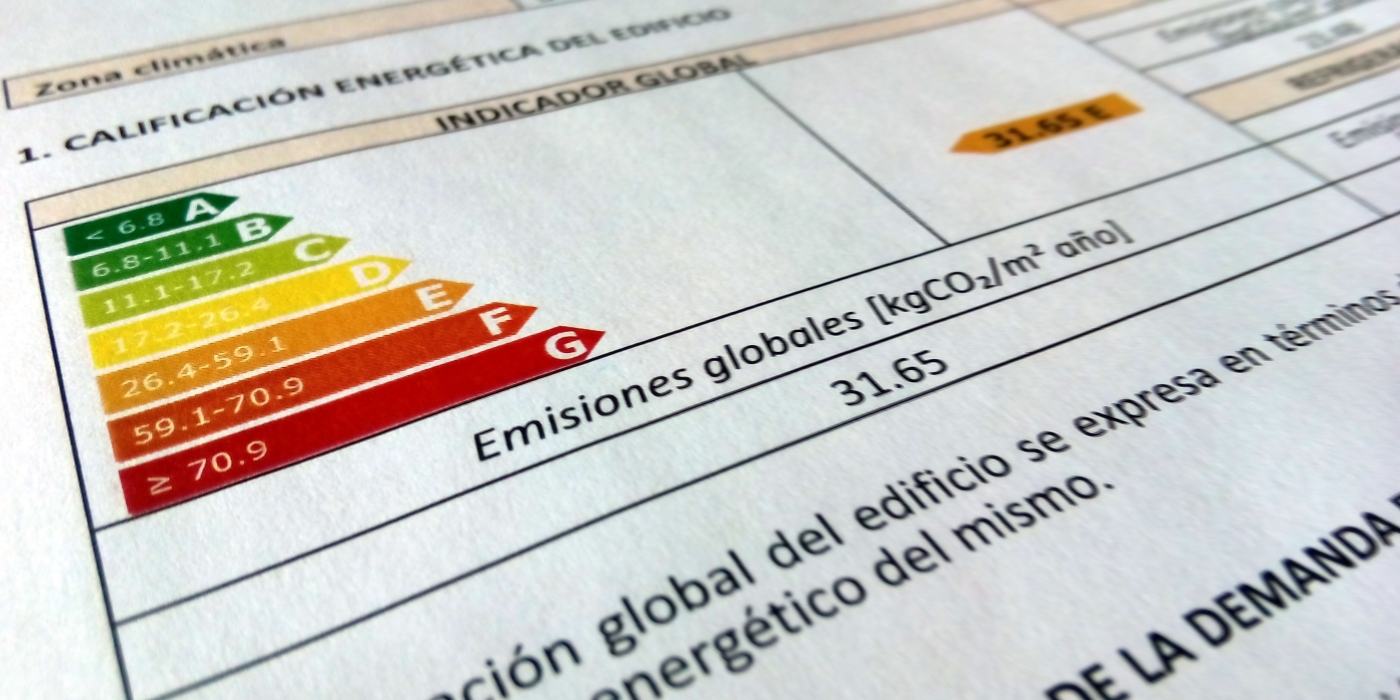 What is an Energy Performance Certificate?
Known as an EPC, or CEE in Spain the Energy Performance Certificate, (Certificado de Eficiencia Energética), is a report that describes how efficient a home is in terms of energy consumption and also gives recommendations on how to save money and make your home more efficient. It assigns an energy rating to each home on a scale which ranges from "A" (the most efficient) to "G" (the least efficient). In Spain, it has been mandatory since 2013 for anyone selling or letting their property to have a valid Energy Performance Certificate.
Energy Performance Certificates are issued by qualified professional technicians or architects who are authorised to undertake building projects and thermal installations for buildings. They visit the property, collecting data before drawing up a report.
Prices vary according to the size of the dwelling. Excluding IVA, you can expect to pay around 150€ for a property up to 100m2, with price increasing to perhaps 300€ for a larger property of  400m2.  The certificate is issued once the property has been fully assessed and is valid for 10 years. This means that as an owner, you do not have to obtain a new certificate during this period unless you renovate or make changes to the property.
The energy rating given to a property by an Energy Performance Certificate, doesn't directly prevent an owner from selling, or renting that property, however the rating may well influence a prospective buyer or renter – lower ratings being less attractive due to higher potential energy costs and visa versa.
Do all dwellings need an Energy Performance Certificate?
There are some exemptions to the requirement for an Energy Performance Certificate. These are – properties that have a floor area of less than 50 square meters; buildings that are being purchased for major renovation or demolition; buildings or parts of buildings that are used for less than four months a year; a property where there is already a rental contract in place; a property where a rental contract is signed for less than four months.
The landlord or owner must make a signed declaration if they consider the property to be exempt. This declaration should be included in the sale or rental contract as applicable.
If the certificate or exemption is not presented before the sale or lease, or the responsibility of obtaining the certificate is placed on the interested tenants or buyers as part of the sale or lease condition, the property owner could end up with sanctions and fines from the authorities for violating consumer rights obligations. Or, the sale or lease contract could be rendered invalid for failing to disclose required information to the consumer as part of a sale/lease.  Either of these could also mean the seller or landlord might be required to compensate the buyer or tenant for any costs caused by them not providing information that they were legally obliged to.
What is entailed in obtaining an Energy Performance Certificate?
To obtain an Energy Performance Certificate the owner of a the property will be required to provide basic information about themselves and their property. The technician assessing the building carries out an on-site audit to gather the necessary information to work out the buildings energy rating. This will include the building's physical characteristics such as: orientation, exterior exposure, window and door openings, along with a review of the buildings systems to identify mechanical, water, and electrical loads.
The technician uses a government approved computer software programme to run its energy efficiency calculations. This generates a report which will present and assess various recommendations for improvements along with determined existing energy efficiency – letter grade (between A to G)
Once complete, the draft Energy Performance Certificate has to be validated by the local Local Government Authority and an original copy will be delivered to the property owner to be kept on file for 10 years or until re-validated.
What information does an Energy Performance Certificate provide?
Identification of the building, or of the individual building units being certified.
Summary of tests, checks, and inspections being carried out by the technician while providing the certification.
Description of the energy characteristics of the building , thermal envelope, facilities, normal operating conditions and occupation, thermal comfort, lighting, indoor air quality, and other data used to derive the energy efficiency rating of the building.
The energy efficiency rating of the building expressed by the energy label graded from A (most energy efficient) to G (lower efficiency).
Recommendations to enable the property owner or prospective buyer/renter, to understand which improvements will increase the energy rating at least one letter grade if the existing rating of the property falls within letter grades B or C. Or two levels if the existing rating falls within letter grades D, E, F or G
The recommendations may include an estimated payback period on investment throughout its life cycle to help a property owner determine extent of work and how to proceed – by major renovation or incrementally. The evaluation of the recommendations cost effectiveness is based on a number of standard criteria such as: the assessment of energy savings, the underlying energy prices and a preliminary cost estimate.
Need an Energy Performance Certificate?  We can help – click here for more info