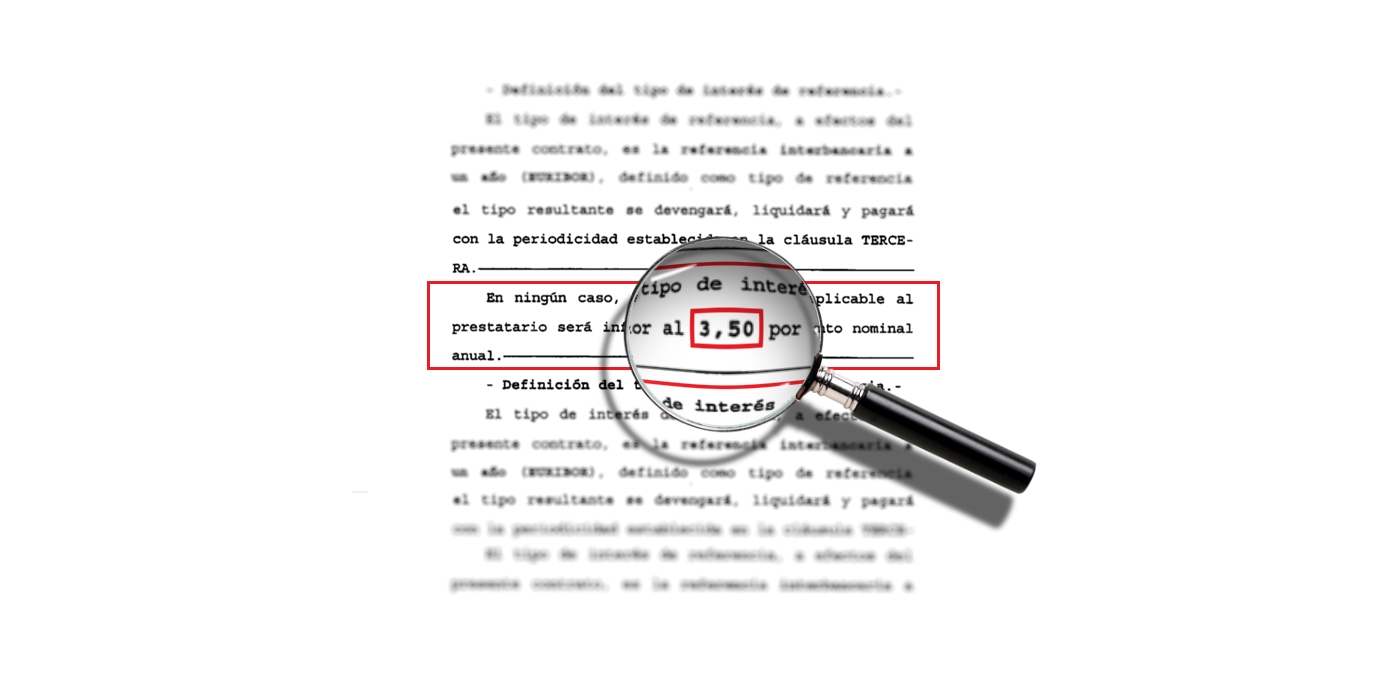 What is a Spanish mortgage – Clausula Suelo?
Over the last two years the Spanish mortgage Clausula Suelo has received a lot of coverage in the media.  If you haven't seen it in the press, you may well have heard people talking about it, or about getting money back from the mortgage provider because of it.
Literally translated, 'clausula suelo' means 'floor clause'.  In the UK this condition in the mortgage terms is known as a 'collar' and sets in place a minimum mortgage payment by defining a minimum interest rate to which a variable rate mortgage can drop.  Most mortgages in Spain are established on a variable rate that is set using a reference rate, normally the Euribor. Typically this will be a given percentage added on top of the Euribor reference rate.  So if the Euribor rate goes up, the mortgage rate and repayment also goes up, and if Euribor goes down, the mortgage rate and repayment also goes down.
The 'Clasula Suelo' imposed a limit on how low the mortgage interest rate can reduce to, thus setting a limit on the extent to which borrowers can benefit from lower costs of borrowing if the Euribor rate reduces, important at times (like now), when Euribor is at an all time low and has been since the beginning of 2009.  A Spanish mortgage 'clausula suelo' was therefore good for banks, as it meant they could potentially earn a bigger margin when the reference rate fell below the 'clausula suelo' threshold, and they would also know mortgage payments would never fall below a certain amount even if rates dropped considerably.
To give an example: A mortgage taken at the beginning of 2007 on a variable rate of Euribor + 2%, with a 'clausula suelo'.  At the time Euribor was around 3.5%, so the initial rate paid would be 5.5%. Over the next 2 years Euribor rose to 4.8% at it's highest, before dropping down to 1.3% in March 2009.  The mortgage interest rate will have followed the rise and fall, going up to a maximum rate of  6.8%, and then falling down to 3.3%.
Great, lower Euribor rate = lower mortgage rate = lower repayment.  Correct, that is until the clausula suelo bites. Let's say the Spanish mortgage 'clausula suelo', i.e. the minimum rate the mortgage can drop to, in this case is 4%.  Euribor has been less than 1% since April 2009 and is is currently -0.251%, (yes a negative rate)!  And in the period from January 2012 where the average Euribor rate has been less than 0.1% this means that the holder of this mortgage would have been missing out on nearly 2% reduction in their mortgage rate, for the last 6 years – that's €250 per month on a €150,000 mortgage!
So is the Spanish Mortgage Clausula Suelo legal?
The Spanish mortgage 'clausula suelo' is perfectly legal.  What isn't legal however, is the way that many banks included it in the mortgage contract.  The mortgage contract will typically provide key information relating to the mortgage on a single page, with important information such as term and rate made prominent.  As we have seen, the Spanish mortgage clausula suelo is of course a very important piece of contract information, but most Spanish banks failed to disclose it.  Rather than include the 'clausula suelo' along with other key information, they instead hid it in subsequent pages or in small print elsewhere in the contract.
In May 2013, in cases brought against BBVA, Caja Mar and Nova Galicia, the Supreme Court in Spain ruled this practice to be abusive for 'not meeting applicable transparency requirements'. Further, they passed judgment on a number of banks ordering them to remove the 'clausula suelo' from all their mortgages and repay customers the extra money that they had spent in repayments as a result of the 'clausula suelo' having been in place.
At the same time the Supreme Court also passed a ruling that a law will be passed to establish the compensation amounts that need to be paid in cases where a Spanish mortgage 'clausula suelo' renders the contract 'abusive'.  Whilst the application and extent of this new law was unknown, in light of the judgement, many other banks acted and removed the 'clausula suelo' from their mortgages.
On the 20th of January this year, this pending law was passed, clarifying the actions banks must take to redress their customers who have been adversely affected by  a 'clausula suelo'.   The law makes it obligatory for banks to inform customers who have the 'clausula suelo' written into their mortgages and to offer an out of court settlement.  As well as informing their customers, banks must also publish on their websites contact details and information about how to make a claim for settlement with their bank.
The law further stipulates that banks must make an offer within 3 months of receiving a claim, disclosing how the figure is worked out and including interest.  It doesn't however go so far as to outline how the banks should calculate their offers of compensation.   They are not obliged to publish any information in English, so anyone who doesn't read or speak Spanish, will more than likely need help to put together and present their claim.
If you have Spanish mortgage, it may have, or have had 'clausula suelo', which means that, if it hasn't happened already, you may well see your mortgage payments reduced with the removal of the clause, and you may also, with a bit of work, be able to claim back money that you've overpaid as a result of it.
Our article Spanish Mortgage Clausula Suelo Claim, provides information about the process to apply for a refund of over-payments, and get a 'clausula suelo' removed.