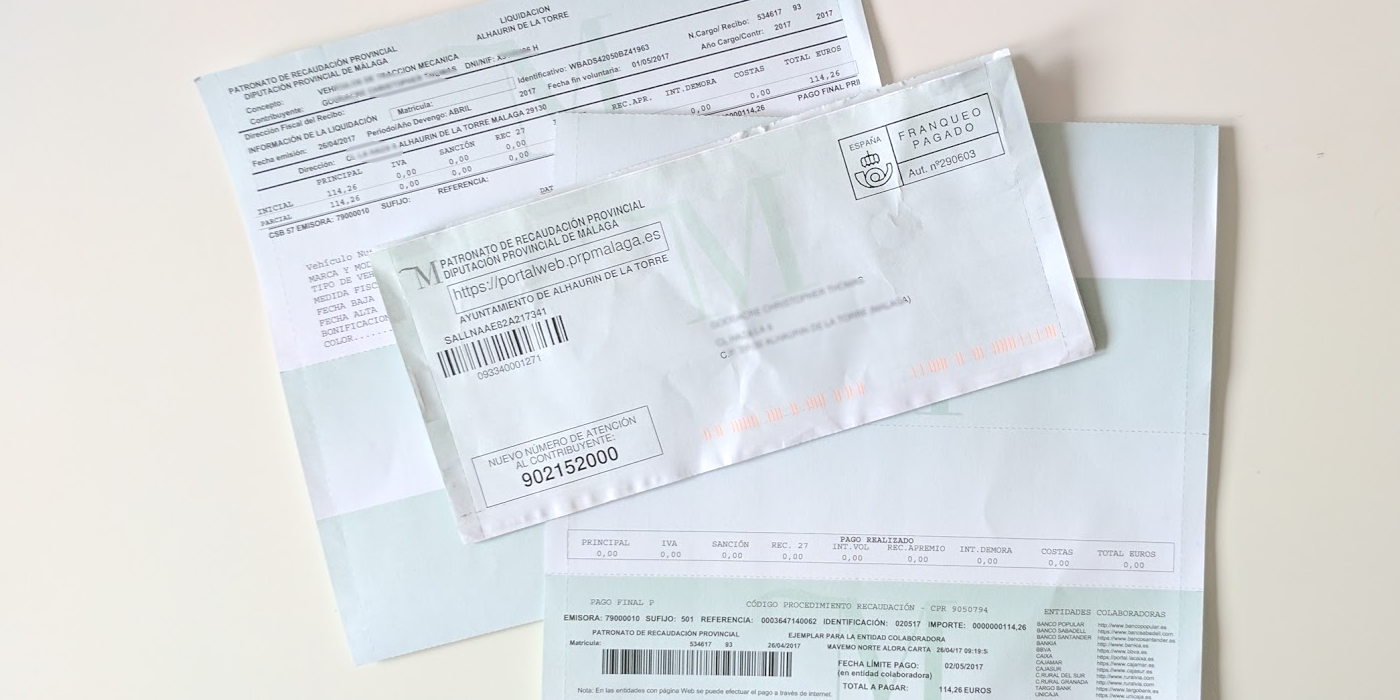 IVTM Impuesto sobre Vehículos de Tracción Mecánica is Spanish vehicle tax, the equivalent of what we refer to in the UK as road tax.
Almost all cars registered in Spain are subject to this vehicle tax, and it's administered and collect locally by the Town Hall.   If you aren't familiar with the vehicle tax system in Spain, you'll find the following useful, to understand it, if not to flag issues, get them resolved and avoid problems in the future.
If you own a Spanish registered vehicle, and by mid May haven't received a bill for vehicle tax, or notification of payment, this could be an indication of a problem relating to details held by the DGT (Direccion General de Trafico) about the registered owner of the vehicle.
The following are some of the things we hear and questions we get asked about Spanish vehicle tax.
Common Scenarios
No one told me I had to pay this!
You'll be surprised how often we hear this.  Yes, quite a few people aren't actually aware that there is this vehicle tax to pay.
Anyone in this situation should get their vehicle status checked asap. There'll probably be backdated tax to pay and quite likely other irregularities with the vehicle paperwork.
I've had my car for years and never had a vehicle tax bill
Was the change of ownership completed?  Maybe the car is still registered to the previous owner, or your address isn't correct at the DGT.
As with the previous, you should check your vehicles status and paperwork.  There'll be back dated tax owed, and you'll need to sort out whatever the issue is, so that in future your bill comes to you.
It's supposed to go out by direct debit but it hasn't
The most common cause of this is there not being sufficient funds in the account to pay it.
The payment should be indicated as 'IVTM' with the 'matricula' (licence plate number) as reference, you can check at the local tax office in case there is a problem their end. If it hasn't been paid they can issue you with a new bill which you can pay at any collaborating bank.
I received the bill but missed the date by which I had to pay it
Vehicle tax bills are issued with a limited period during which you can pay them at collaborating banks.  If you miss the payment window, the bank will not be able to take the payment, so you will need to go to the local Town Hall tax office to get the bill re-issued, then go back to the bank and pay it.  A prime example of seemingly needless Spanish bureaucracy!
I keep getting a vehicle tax bill for a car I've sold!
The transfer out of your name hasn't been completed correctly.
If you used a 'Gestoria' or sold the car to a dealer and they handled the transfer of ownership, go back to them.
If you have details of the person who you sold the car to, i.e. NIE / NIF copy or passport, and sales contract, ('compra-venta'), you can notify the DGT of the change of ownership.
When you sell a vehicle in Spain, you should never leave it to the buyer to handle the change of ownership. For as long as the vehicle is still registered in your name, you will be liable not just for vehicle tax, but also fines, speeding and parking tickets etc.
FAQ's
I've changed address, what do I need to do?
As well as informing the DGT of a change of address, you should also notify your Town Hall of your new address.  This is especially important if you have moved to a different municipal administration area.
How do I know when I have to pay?
The tax is generally paid yearly, though some town halls bill in two periods.
The bills are generally issued from March to June to the address the vehicle is registered at DGT. The bill details the vehicle to which it relates, and the amount due. If you pay by direct debit you will get a payment notification.
If you have not received either bill or payment notification by mid May, there could be a problem, e.g. address, or bank details incorrect, so it will be worthwhile checking with your local tax office, just in case.
How or where do I pay it?
You can pay the bill at collaborating banks or by direct debit from your bank account. Some town halls offer online payment options, (though these often don't work) and some banks also have online payment facilities for their customers. A few town halls also accept payments directly.
Do I still need to pay it if I don't use the vehicle?
If your vehicle isn't being used, you have the option to notify the DGT that it is off the road, 'baja temporal', the equivalent of UK SORN.  You can then notify the DGT when you start using the car again.
Note: Make sure you don't give permanent notice by mistake, 'baja definitiva'.  This is used when cars are scrapped!
What happens if I don't pay it?
The debt stays with the registered owner of the vehicle which if left unpaid could ultimately result in an embargo on the vehicle or your bank account.
This is one reason why it's important to make sure the transfer of ownership is done correctly when you sell a vehicle.
Can I sell my car if it has unpaid taxes?
A vehicle change of ownership cannot be processed at DGT unless all taxes are up to date, so any unpaid taxes would need to be taken into account in your negotiations with the buyer when agreeing the sale price.
Do I need to keep proof of payment of the tax in the car?
No this isn't a requirement. DGT systems hold records of tax payments.
If I buy a car part way through the year what happens with the vehicle tax?
The billing period runs from the 1st  Jan to the 31st of December.  The person responsible for the taxes is the registered owner on the 1st Jan.
In Spain tax is not refunded on a pro-rata basis as it is in the UK when a car is sold. Normally during the vehicle sale negotiations, agreement is reached between the two parties as to who will pay, i.e. whether the amount is taken into account in the sale price or not.
Need a hand with your vehicle tax?
We can help resolve most vehicle tax issues quickly and easily.  Get in touch and we'll answer your questions and point you in the right direction.
Call or WhatsApp (+34) 951 77 55 44 / (+44) 033 0001 0777