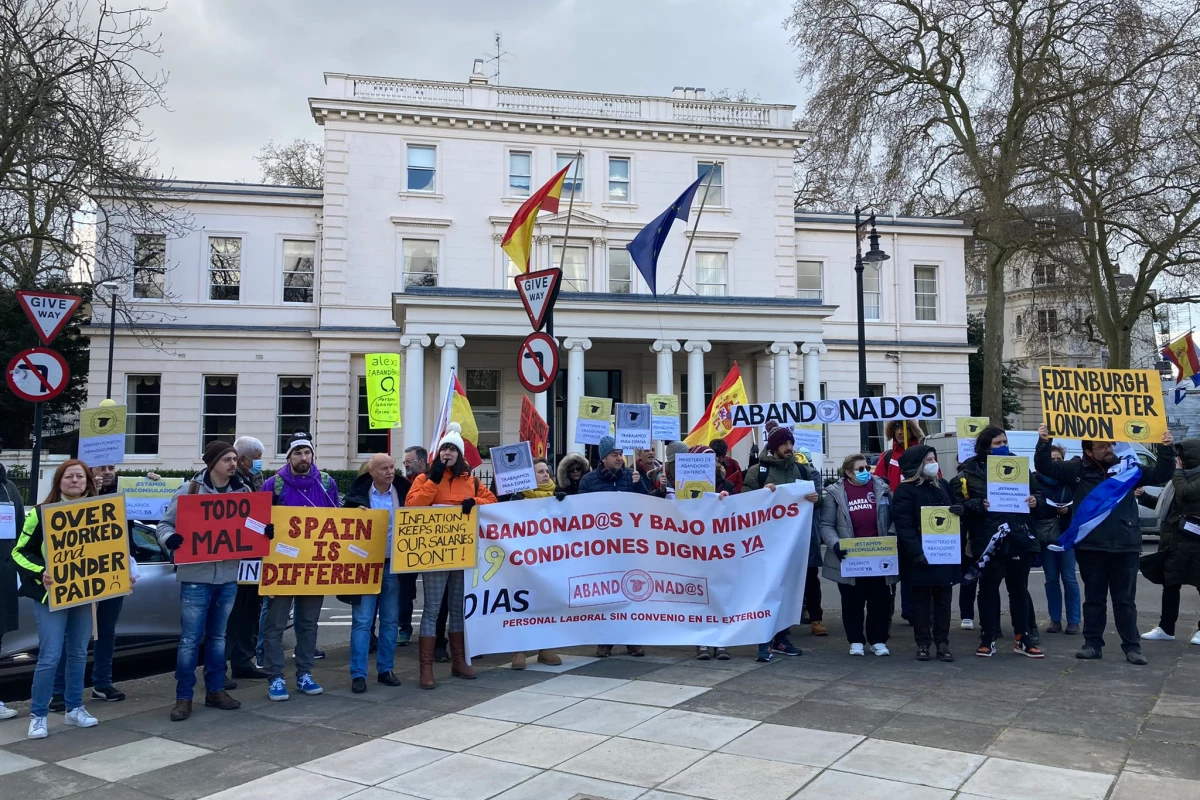 UPDATE: 30th May
Services seem to be back to normal
UPDATE: 20th May
Still no appointments available on the London Consulate booking system.
Manchester and Edinburgh responding to requests in a few days and offering appointments around 2 to 3 weeks ahead.
UPDATE: 10th May
There are still no appointments available on the London Consulate booking system.
Manchester are now replying a lot faster to requests for appointments.
UPDATE: 6th May
Following a number of appointments at the Consulate in London today, feedback is that they expect to get appointments back to normal in June.
UPDATE: 2nd May
No further information was provided by the Consulates on Friday.  We will continue to monitor and will update as we get further information and feedback from our many applicants who are either waiting for visa appointments or for their visas to be issued.
UPDATE: 29th April
Yesterday's Tweet was deleted and replaced with another today (Friday 29th):
📢 The indefinite strike of the workforce has been called off, so the normal functioning of #CGLondres will gradually be restored. All information on our website.
As yet no information has been updated on any of the three UK Spanish Consulate websites.
UPDATE: 28th April
The Spanish Consulate in London posted on their Twitter account:
📢 The indefinite strike of the workers has become a weekly protest, with one hour's stops, so that the #CGLondon will gradually resume normal operations. All information on our web.
________________________________________
Strike background and previous update
The ongoing indefinite strike is significantly affecting services at all of the Spanish Consulates in the UK, and therefore holding up visa applications.
The strike action commenced after the failure of any progress with longstanding talks that had been going on for months prior.  Around 100 workers are on strike calling for a salary update following thirteen years of pay freezing since 2008.
We understand that the striking workers make up around 80% of the workforce and are primarily service personnel, administrative assistants, bilingual assistants and administrative officers, amongst others.  Clearly therefore, the consulates are all very understaffed.
It is being reported that little progress has been made with negotiations, which means that the situation can be expected to continue for the time being.
This ongoing situation or course raises many issues and questions for visa applicants, so we've put together a list of Questions & Answers, including those which at this time can't be answered.
Strike at the Spanish Consulates – Q & A's
What are the timescales for processing of applications?
Whilst the strike is ongoing, consular visa services are significantly reduced.  Turnaround of applications once submitted, isn't taking much longer, the main impact of the strike is on appointments.  We are experiencing wait times of several weeks to get replies to appointment requests and the delays vary between the consulates.  Delays can be expected to continue for a while after the strikes ends as there will of course be delays due to backlogs.
How long will the strike go on for?
The staff on strike have stated that the strike action is indefinite, and will continue until their demands are addressed.  Given the lack of progress in negotiations so far, it is likely that the strike could continue for some time.
Can I get a visa application appointment at the Consulate whilst the strike is on?
All of the consulates are offering only a small amount of appointments for new applications, compared to usual.
The consulate in London are responding to requests for appointments and providing access to their booking system, however there are invariably no appointment slots available in the system.
The consulates in Edinburgh are currently responding to appointment request the quickest out of the three.  Manchester so far are taking the longest time to reply.
Can I attend an appointment at the consulate during the strike?
Yes, you can.  Applications are being processed as usual, but just taking longer than usual.
What happens if my documents go out of date?
We cannot say whether the consulates will accept Police ACRO reports or medical certificates that have passed the 3 months validity as a result of delayed appointments due to the strike action.
We would hope that they will make an exception taking proof of the date of appointment request as confirmation that the documents would have been in date at the time of appointment in normal circumstances.  We have been told by the consulates that there will not be a general exception made and that 'they will consider each individual case'.
Last year the consulate in London closed it's services for long term visa applications without notice, from the beginning of June until the end of October.  As a result many applicants documents were out of date by the time they got an appointment.  On this occasion the consulate did not make any exception and insisted on new in date documents, so you should be prepared that you may need to obtain new ones if they expire.
If I haven't yet applied for my Police ACRO or medical certificate should I wait?
As things are it is impossible to say if you get your Police ACRO and medical certificates today whether you will get an appointment within the next 3 months.  If you are starting the process of preparing your application, it may be advisable to hold off applying for these documents until there is news of progress with negotiations.
What should I do about setting up private medical insurance?
Private medical insurance needs to have been contracted at the time you go to your appointment, however the start date does not need to be until the date you planned to arrive in Spain with your visa.  In the ongoing current situation, we recommend that you organise your insurance, but wait before applying for and contracting the policy.
I haven't had a reply to my appointment request, should I email again?
As the consulates have greatly reduced staff numbers, there is a huge strain on the staff that are working, so they obviously will not be able to maintain usual response times and will take a lot longer to respond.  Lots of extra emails won't help the situation or get you a faster reply.  In fact, it may do the opposite.
The above is based on our experience with lots of applicants with applications in process or waiting for appointments at all of the consulates during the strike.
We will update this page as and when we get any new information and further feedback.